posted by

exsequar
at 08:31pm on 14/11/2010 under
fall 10
,
fussball
,
fussball - bayern
,
fussball - michigan
,
rl
,
umich
MICHIGAN MEN'S SOCCER ARE THE 2010 BIG TEN CHAMPIONS!!!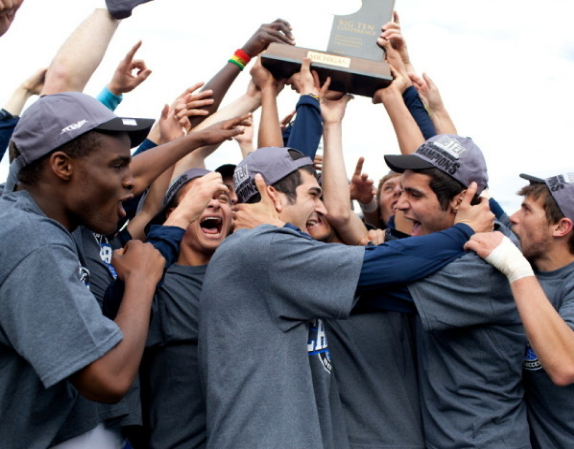 That's the Saad brothers in front! They are SO HAPPY about each other's existence, oh my goodness. ♥___♥
I tear up every time I think about how happy they were. SO MUCH HAPPINESS. I watched the game on TV with my dad, uncle, and roomie Emily, and what a game it was!! Michigan absolutely burst out of the gate with an early Soony Saad goal (who else?!), Justin Meram struck twice in the first half with absolutely gorgeous goals, and Hamoody Saad nailed a penalty near the end to seal a 4-1 victory. That's the highest scoreline EVER in a Big Ten final! Glorious soccer, all around, and I COULD NOT BE MORE PROUD. The soccer program here is only 11 years old, and the same man who started it, Steve Burns, is still their coach, so this is just the most fantastic reward for all his years of hard work.
ALL HAIL TO THE VICTORS VALIANT! :D :D :D
It's so amazing that the one sport I decided to follow at my new Big Ten school goes ahead and wins their conference immediately. Hahaha. Fantastic. ♥ I just wish I had seen more games this season! I will see ALL THE GAMES next season to make up for it. \o/
ONTO THE NCAA TOURNEY! I hope they do really well!
And just to cap off all the amazingness, I have just discovered that tomorrow the team will be at a pub watching the NCAA draw on TV, and FANS ARE INVITED TO HANG OUT. Um. Ummmm. You guys, this is like getting into a brand new TV fandom and suddenly discovering you can go hang out with the cast. WHAT IS BREATHING OMG. I'm obviously going to go because I would KICK myself if I didn't, but I'm terrified that I'll be super duper awkward. It's a bunch of undergrad boys! I am not an undergrad boy! IDK IDK. But I really hope to get to chat with Soony Saad, he seems like such a lovely guy and he's just so talented and I want to ask him about how he started following Liverpool and sdkjljskdf I'M REALLY EXCITED OKAY.
Also this weekend, Bayern finally won decisively, my roomie had a fun birthday party last night, and I got no work done! All in all it was delightful times!